The Library's databases contain magazines, journals, newspapers, reference books, video files, audio files, and podcasts.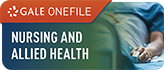 What databases will be the best for this project?
For articles, search the Nursing & Allied Health database .
Merck Manual for Healthcare Professionals - Search under "Drugs by Name, Generic & Brand" under Drug Information.
Health and Wellness (Gale)

Medical, statistical and health-related information and alternative/ complimentary therapies - Unlimited users
In the box labeled Drugs, click on "show all". On the resulting page click on the drug you are interested in learning more about. This will bring you to an overview of that drug as well as related reference, magazine, academic journal, and news articles.
Kirtland librarians also recommend searching Opposing Viewpoints in Context. In the search box, type "narcotics" or a specific narcotic/drug. You will find lists of viewpoints, journals, statistics, audiofiles, newspapers, images, videos, reference books, magazines, and websites.
Note: You will need to use your Single Sign-On user name and password to access the Library's databases.